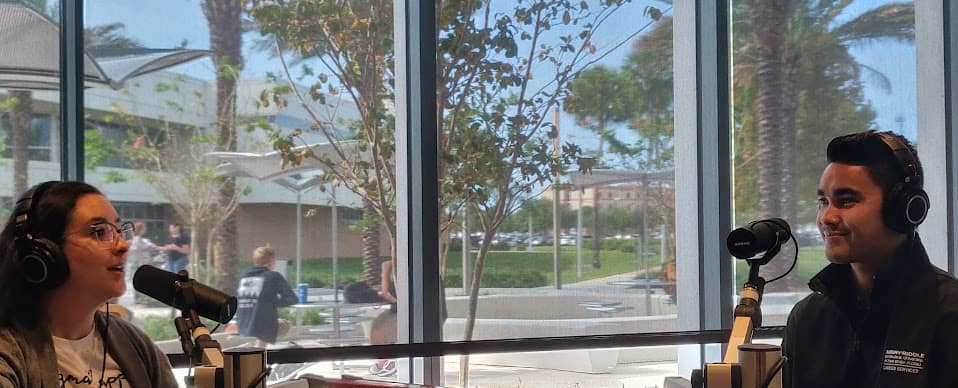 Join host, Ryan Mazon, along with Lauren Burmester, Sandi Ohman, Jim Myers, Rosseana Morales, and special guests as they discuss timely career-related topics. Subscribe to the Going Places! with Career Services Podcast on Spotify or Apple Podcasts. Look for more episodes later in 2021.
Episodes
The Podcast Team
Ryan Mazon is an alum of Florida State University where he completed his Master's/Specialist's degree in Career Counseling. He is the program manager for many majors including Aeronautics, Aerospace and Occupational Safety, and Homeland Security in the ERAU Daytona Beach, FL Career Services Office. Ryan has a background working with many different offices at Florida State before working for career services, including campus recreation, new student and family programs, and student disability services. He has a passion for serving students by meeting them where they are at and connecting them to the resources they need. In his free time, Ryan enjoys the beach, playing different instruments, and staying active outdoors.
Lauren Burmester is an Assistant Director in Career Services. She has been an employee with Embry-Riddle Aeronautical University since 2006 working in Advising and Admissions. She completed both her Bachelor of Science degree in Aerospace Studies with concentrations in Aviation Safety, Space Studies, and Business Administration, as well as a Master of Science degree in Aeronautics with a specialization in Safety Systems at Embry-Riddle Aeronautical University, graduating with distinction. Lauren's passion for the Aviation and Aerospace industry is instrumental in assisting students achieve their personal and professional goals.
Sandi Ohman is an Assistant Director in the Career Services Office at Embry-Riddle Aeronautical University, in Daytona Beach, FL. She has been with the University and in Career Services for 15 years, has advised students in many degree areas, taught UNIV 101 classes to incoming students, and enjoys maintaining the many alumni relationships she has cultivated through the years. Sandi brings additional experience and perspective from her previous career in the finance industry. She received her Bachelor of Science degree in Business Administration from the University of Florida, and her Master of Arts degree in Educational Leadership from the University of Central Florida.
Jim Myers is a senior pursuing a degree in Aviation Business Administration with a concentration in Supply Chain Management. As a freshman, he landed an internship doing Government Affairs for the Experimental Aircraft Association (EAA) in Oshkosh, Wisconsin. This internship allowed him to work with the FAA on policies for the experimental aircraft community. Jim is a Student Assistant as well as a Student Ambassador for the Career Services Office. Most of his time is spent working in the Student Government Association (SGA) on projects to improve the campus.