Wednesday, February 23, 2022 — Daytona Beach, FL
The Industry / Career Expo provides your organization an opportunity to meet and recruit diverse candidates, including first-year through graduate-level students, recent graduates and experienced alumni, all representing a wide range of degree areas and career focuses. The event attracts over 1,500 attendees.
Please note that this event is only open to Embry-Riddle students and alumni.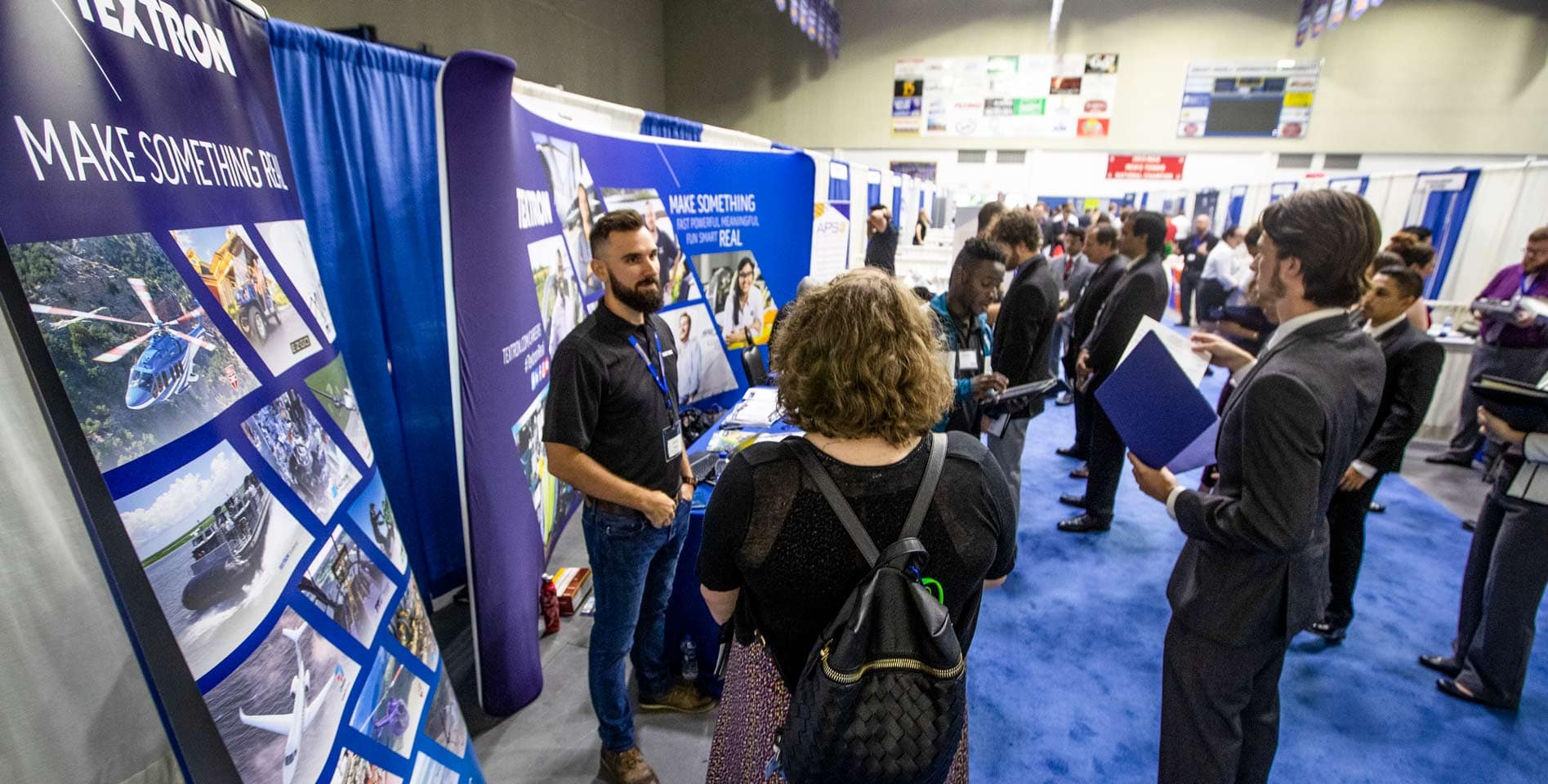 Tuesday, February 22


Exhibitor Check-in: Noon to 5:00 p.m.

Expo Day

Wednesday, February 23


Late Exhibitor Check-in: 7:30 a.m. to 9 a.m.
Expo Hours: 9 a.m. to 3 p.m.

Thursday, February 24


Optional Interview Day: 8:00 a.m. to 5:00 p.m.
Reserve your interview space when registering for the event.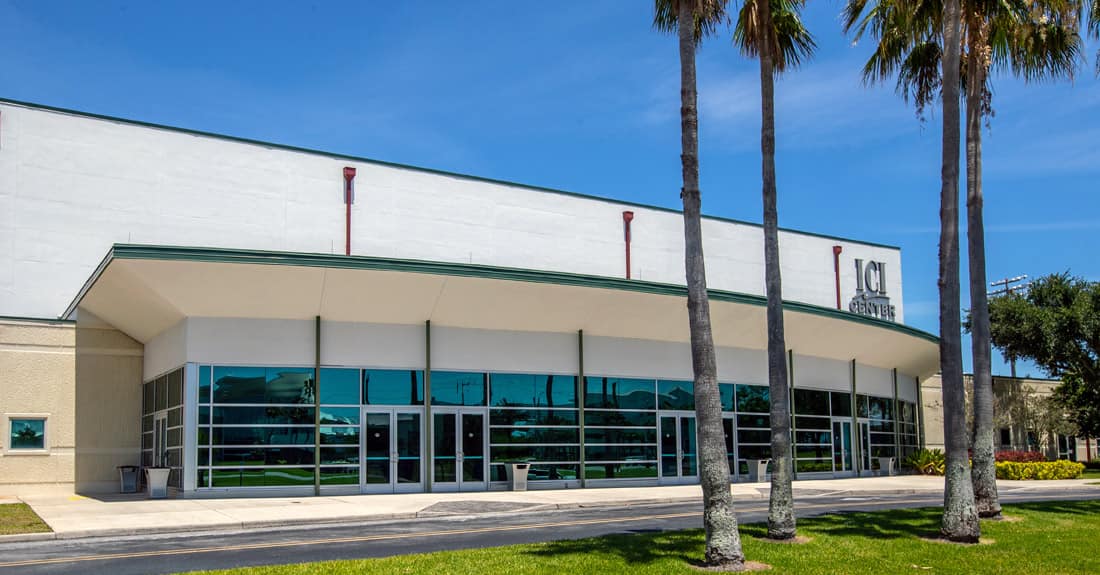 All exhibitors will check in at the exhibitor information booth located in the lobby of the ICI Center.
The ICI Center is located at 1 Aerospace Boulevard, Daytona Beach, Florida 32114, directly across from the main entrance to the University.
Exhibitor name badges will be issued at check-in. Exhibitor badges are issued only to the personnel actually staffing the booth. The name of the exhibiting company and exhibitor, as it appears on the registration form, will appear on each badge. Badges must be worn at all times during Expo hours.
Employer registration is done through Handshake.com, where you can provide company information, representatives' names / email addresses and types of positions you are recruiting for. Electricity and interview booth needs can also be specified. If you have any questions, please contact Indira Diaz at DBICExpo@erau.edu.
Organization
Registration Fee
For-Profit Corporations
$400 Early Bird
or $450 after Nov. 30

Government Agencies & Non-Profits
$250
Each exhibitor booth space includes up to four representatives. Additional representatives may be included for an additional $25 each, or another booth space may be purchased.
Sorry, third-party employment services may not participate in the Daytona Beach Industry / Career Expo. Tabling options are available upon request outside of the Expo weeks.
Exhibitors are required to procure, maintain and provide evidence of insurance coverages.
View Exhibitor Insurance Requirements
---
Lodging in Daytona Beach, FL
Please ask for the Embry-Riddle Corporate Discount Rate.
Booth Specifications
The standard booth size is 8 foot deep by 10 foot wide. The booth price includes an 8-foot-high flameproof backdrop curtain and divider side rails, a 6' table, two chairs and a wastebasket. Aisles will be carpeted. Electricity will be available upon request. All other requests for special services or equipment must be directed to US Tradeshows.
Installation & Dismantling
Installation of exhibits may begin Tuesday, February 22, from noon to 5 p.m. Exhibits must be fully assembled no later than 9 a.m. Wednesday, February 23.
Exhibit may not be dismantled until after the event has concluded at 3 p.m. on February 23.
Assignment of Space
Embry-Riddle reserves the right to assign booth space as best meets the needs of the show and reserves the right to deny space to any exhibitor that does not meet the objectives of the event. Confirmation of space will be sent upon receipt of payment. No exhibitor shall assign, sublet, or share whole or any part of the space contracted without the prior written consent of ERAU.
Sponsorships and Advertising
You are invited to advertise in the Industry / Career Expo program or to explore sponsorship opportunities to further promote your company and demonstrate your support of the Embry-Riddle community.
For more information, please contact Valerie Mandel at kielmovv@erau.edu or (386) 226-6057.
Cancellations
Cancellations made after January 21, 2022 are nonrefundable. Please note: Booth space will not be assigned until payment has been received in full.
No-Show Policy
Employers who do not show up the day of the event are still responsible for full payment. If payment has not been made, an invoice will be sent via email. Employers owing a balance will not be able to register for future events until the balance is paid in full.
Restrictions
Embry-Riddle reserves the right to impose limitations on noise levels and any method of operation that becomes objectionable. No signs may be affixed with pins, tape, tacks or adhesive of any kind to walls, doors or any surfaces of the exhibit area. ERAU reserves the right to deny space to any exhibitor if the product or service does not directly meet Industry / Career Expo objectives.
Security
Embry-Riddle provides 24-hour campus patrols; however, ERAU assumes no liability for damage or loss of property. The ultimate responsibility remains with the individual exhibitors to protect their property. The exhibiting company should arrange and provide appropriate protection and insurance. For further campus security information, contact Campus Safety at (386) 226-6480.
US Tradeshows is the official decorator and service contractor for the Expo. You will receive an Exhibitor Services packet directly from US Tradeshows. Please review it carefully for important information pertinent to your visit.
US Tradeshows offers services to exhibitors that include extra furnishings, shipping, and booth setup. US Tradeshows will bill you directly for requested services.
If you have any questions about the Expo exhibitor requirements or special requests, you may reach US Tradeshows at:
Website: ustshows.com
Phone: (407) 812-8223
Fax: (407) 812-8225
Address: 524 Mid-Florida Drive, Ste. 209
Orlando, FL 33824