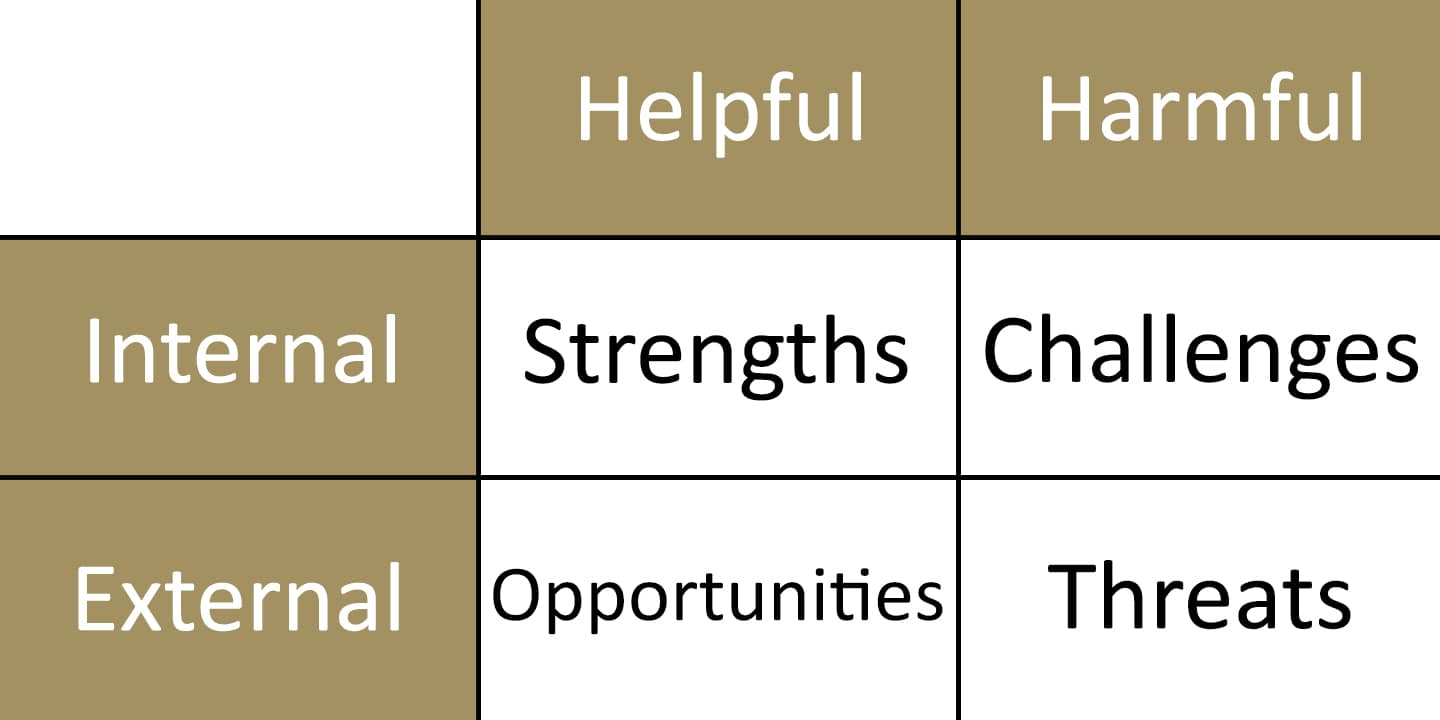 The traditional SCOT analysis -- SCOT stands for Strengths, Challenges, Opportunities and Threats – is often used in marketing and strategic planning efforts. For a job search, a SCOT analysis is a great way to evaluate your personal strengths and challenges and external opportunities and threats before you begin looking for a position.
Use the examples listed in the four sections below as points of consideration in creating your own chart.
Strengths
To begin this exercise using the SCOT analysis, summarize the positive qualities, experiences and skills you that you can control to bring to any job. Examples might be:
Work experiences
Education, training and certificates
Qualities (hard working, creative)
Transferable skills (communication, leadership)
Computer and language skills
Motivation
Challenges
Next, identify any challenges (or weaknesses) that can be improved, that could be an issue when pursuing employment. Examples might be:
Lack of specific work experiences
Low academic success (GPA)
Little technical knowledge or experience
Weak skills (public speaking, teamwork)
Negative personal traits (procrastination, no discipline)
Job search skills and motivation
Opportunities
You will also want to list any external opportunities – factors that are outside of your control -- that you can take advantage of to find a job. Examples might be:
Positive trends in your discipline or industry
Advancement opportunities you could pursue
Connections within your industry or external of the field
Opportunities for professional development or training
Geography
Threats
You should also research any external conditions that are threats you could face during your search. Examples might be:
Economic situation
Negative trends in your discipline or industry (downsizing, outdated technology)
Skills the competition can offer companies
Limited advancement in the company or field
Companies not interested or knowledgeable about your field of study
Geography
Summarize the results in the SCOT table for easy reference. Once completed, the SCOT analysis can be used to further develop career goals, determine challenges to overcome, assist with resume and interview preparation and direct you to specific action items. Here are some questions to ask upon completing this exercise:
Do your strengths match the typical requirements of the job you are pursuing?
What companies can you pursue in order to meet your career goals?
What skills or qualities are missing from your analysis that you can gain through additional training or education? What experiences are missing that could make you a more solid candidate?
What opportunities could you pursue to make you a more viable candidate or allow you to network with others?
How will you react to the threats to create opportunities?
Finally, use the information identified to create a plan of action for your job search. Follow through with each point of your plan.